Long time no see, huh?
I'm terrible at it.
Finally I managed to photograph some figures I painted recently.
My favourite Dark Souls family is finally together: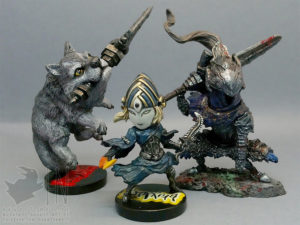 I finished Ciaran first, you could've seen her here:
---
Today I present to you more pics of finished Artorias and Sif;
---
All three are sculpted by IKEGAMI, available from Mouse Unit.
---
*TV SHOPPING ANNOUNCER VOICE*
BUT THAT'S NOT ALL.
Here's Horned Frog, small kit sculpted by 大山竜, which I've got from my friend Acidraw ♥
---
*TV SHOPPING ANNOUNCER VOICE*
BUT WAIT, THERE'S STILL MORE!

In previous epoch, Steamforged Games LTD came up with Kickstarter campaign for Dark Souls: The Board Game. Which I backed.
The game came with pretty neat miniatures and I just painted one of them, the Dragon Slayer Ornstein!
[I'm just salty, because it takes them ages to release the game and their services are shady.]

Well, that's all for today. Hopefully I'll be able to show some more stuff soon.
At least I keep fingers crossed for that. Yeah.
Enjoy!